HAV-IgM Rapid test Cassette
Catalog No.:BG601C
INTENDED USE
This test is a single use, rapid device intended for qualitative detection of IgM-class antibodies to hepatitis A virus (HAV)in serum, plasma samples. It is intended to be used in clinical laboratories for diagnosis of acute hepatitis A and management of patients related to infection with hepatitis A virus.
ASSAY PROCEDURE
1. Allow the test cassette to reach room temperature (appropriately 30minutes) before opening the pouch.
2. Add 10μL serum or plasma sample into the sample well, then add 100 μL of sample dilution immediately
3. Open the pouch and pipette 80μl of diluted sample into the sample window (S). Avoid dropping sample in the observation window. Do not allow the sample to overflow.
4. Place the cassette on flat surface and read the results within15-20 minutes.
A positive test line may appear after 20 minutes - this is a False Positive Result - do not read the results after 10minutes.
RESULTS
Quality Control: One red line will always appear next to the Control Zone(C) indicating the validity of the test. If no redline appears, the test is invalid - discard the test and repeat with new sample and new cassette. Positive Results: One red line next to the Test Zone (T) indicates that IgM antibodies to HAV have been detected using this HAV IgM Rapid Test.
Negative Results: No red line appears within 20 minutes next to the Test Zone (T) indicating that no IgM antibodies to HAV have been detected with this HAV IgM Rapid Test.
However, this does not exclude the possibility from infection with HAV.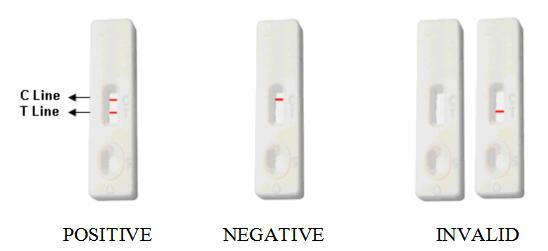 The positive result obtained with this HAV IgM Rapid Test alone cannot be the final diagnosis of HAV. Anypositive result must be interpreted in conjunction withthe patient clinical history and another laboratorytesting results. Follow-up and supplementary testing of any positive samples with other analytical system (e.g. ELISA, WB) is required to confirm any positive result.
• This is a qualitative assay and the results cannot be used tomeasure antibodies concentrations.