Rotavirus And Adenovirus Rapid Tests
Rota/Adenovirus 2in1Test
Catalog No.: BG302S
INTRODUCTION
Rotavirus is the primary causative agent of acute gastro-enteritis, especially in children less than 2 years old. Its discovery in 1973 and its association with infantile gastro-enteritis represented a very important advance in the study of gastro-enteritis not caused by acute bacterial infection. Rotavirus is transmitted by oral-faecal contact with an incubation period of 1-3 days etc.
The Adenovirus is the second most common cause of viral gastro-enteritis in children (10-15%). This virus may also cause respiratory diseases and, depending on the serotype, also diarrhea, conjunctivitis, cystitis, etc. At least 47 serotypes of adenovirus have been described, all sharing a common hexon antigen. Serotypes 40 and 41 are the ones associated with gastro-enteritis, whose main symptom is diarrhoea that may last between 9 and 12 days associated with temperature and vomits.
REAGENTS AND MATERIALS
Strip 25T
Extraction Buffer 15ml
Instruction for use 1
STORAGE OF TEST KIT
The Rota/Adeno Rapid Test Strip can be stored at any temperature between 4-30°C. Do not freeze. The stability of the kit under these storage conditions is 24 months. Use up the reagents as soon as possible after the kit is unpacked.
ASSAY PROCEDURES
1.Allow all reagents to reach room temperature before use.
2.Place 0.5-1ml of extraction buffer in a properly marked testing tube.
3.Add a sample portion of approximately 5-6 mm size (25-100mg), with a swab, a wooden applicator or a bacteriology loop. Press the applicator to the tube and rotating it at the same time. For liquid or semi-solid stools add 100 micro liters of stool using an appropriate pipette.
4.Shake vigorously in order to resuspend it into the buffer. If needed Vortex for 15 seconds.
5.Dip the reaction strip in the test tube with the arrow pointing to the bottom.
6.Incubate the test at room temperature and read the test in 5-15 minutes.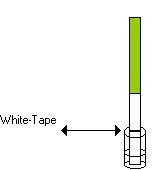 INTERPRETATION OF RESULTS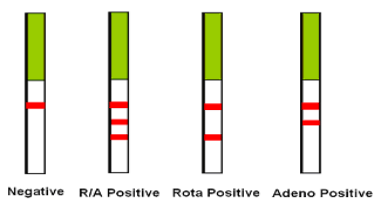 Negative: One pink line appears in control line, showing the test has been carried out correctly. There will be no line in test region
Positive: In addition to a pink colored control line, for adenovirus positive, an upper test line will appear, for rotavirus positive, a lower test line will appear.
Invalid: A total absence of color in both regions is an indication of procedure error and/or that the test reagent has deteriorated. The test should be repeated using a new strip.