Fecal Occult Blood test kit
FOB rapid Test kit is qualitative test for the detection of blood hemoglobin in human stool specimens and early diagnosis for Colon Cancer by Fecal Occult Blood screening with double methods, immunology and chemistry.
Test Principle:
In gastrointestinal bleeding, red blood cells are digested, decomposed and destroyed, feces has blood which could not be recognized with the naked eye and under the microscope, so called FOB. Colorectal cancer, colonitis, peptic ulcer and other diseases are asymptomatic in the early stage and only show FOB.
The detection reagent detects hemoglobin in feces using immune colloidal gold technology and double-antibody sandwich method, showing a high accuracy in the detection of lower gastrointestinal bleeding. It is suitable for early diagnosis of gastrointestinal bleeding. The detection is free from the interference of other substances and food.
The FOB Rapid Test Device (Feces) detects human hemoglobin through visual interpretation of color development on the internal strip. Anti-human hemoglobin antibodies are immobilized on the test region of the membrane. During testing, the specimen reacts with anti-human hemoglobin antibodies conjugated to colored particles and precoated onto the sample pad of the test. The mixture then migrates through the membrane by capillary action and interacts with reagents on the membrane. If there is sufficient human hemoglobin in the specimen, a colored band will form at the test region of the membrane. The presence of this colored band indicates a positive result, while its absence indicates a negative result. The appearance of a colored band at the control region serves as a procedural control, indicating that the proper volume of specimen has been added and membrane wicking has occurred.
Product Specifications

Storage: 4 °C to 30 °C
(1) One Step FOB (Fecal Occult Blood) rapid test is a rapid direct binding test for the detection of Gastro enteric Bleeding in Feces
(2) Format: strip or cassette
(3) Specification: strip (3.0mm), cassette (3.0mm. 4.0mm), or according to the customer's requirements
(4) Specimen: serum, plasma, whole blood
(5) Design: according to the customer's requirements
(6) Sensitivity: 0.2ugHb/ml or 0.03mgHb/gm; Specificity: over 99%
(7) Long shelf life: 24 months at room temperature
(8)Packing Details: Strip: 1 piece/bag, 100 bag /box, 4000 pieces/ctn;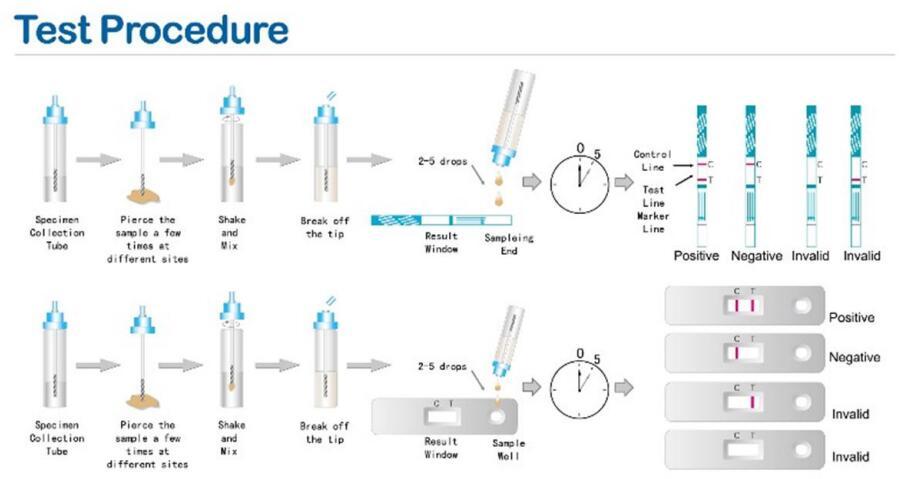 TEST PROCEDURE
1. Remove the test device from its foil pouch by tearing along the notch.
2. Specimen collection.
3. Shake the sample collection device several times.
4. Holding the sample collection device upright, carefully break off the tip of collection device.
5. Draw 2 or 3 drops of the sample solution on the test sample pad, as in the illustration.
6. Read the test result after 5-10 minutes. Do not read results after more than 10 minutes.