COVID-19 IgG Antibody Test Kit
Diagnostic Kit for IgG Antibody to 2019-nCoV(Colloidal Gold)
Catalog No.: BG1902C
【Packing specification】
5 tests/kit; 20 tests/kit; 40 tests/kit
【Intended Use】
The kit is used for the qualitative detection of a novel coronavirus (2019-nCoV) IgG antibody in human serum, plasma or whole blood samples in vitro. It is only used as a supplementary detection index for suspected negative cases of new coronavirus nucleic acid detection, or in collaboration with nucleic acid detection in the diagnosis of suspected cases, and can not be used as a basis for the diagnosis and elimination of pneumonia caused by new coronavirus infection.
【Inspection method】
1.Pretest preparation: 10μL, 50μL and 100μL micropipette, 1 each, and several matched suction heads or droppers (10μL, 50μL, 100μL).
Inspection process: Put the detection card on the dry horizontal worktable. Add 10μL serum or 20μL whole blood sample into the sample well using the micro pipette, then add two drops(about70~100μL) of sample dilution immediately. Observe the result in 10~15 minutes after the serum or plasma samples added. The observation is invalid after 15 minutes.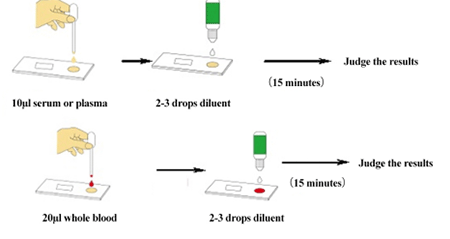 3. Precautions in the inspection process:
a. The kit and the samples to be tested should be placed in equilibrium at room temperature before they can be inspected.
b. Be attention to the potential biological risks. Wearing necessary protective equipments, and dealing with waste as infectious material.
【Interpretation of test results】
To develop color on C line only: negative;
To develop color on both C line and T line: positive;
To develop color on T line only: invalid;
If no C line is developed, the assay is invalid regardless of any color in the T line.
Note: Samples should be processed according to infectious contaminants and samples should be collected again.